EMERGENCY ROADSIDE ASSISTANCE
At Columbia Fleet Service, we have tow trucks sized to handle all types of towing situations. Receive exceptional Emergency Roadside Service with Columbia Fleet Service. We have various emergency services and experienced operators that can get you a new battery, give you a jump start, bring you a new tire, and much more.
If you are in need of emergency roadside assistance, then look below to see just a few of the many emergency roadside services the Columbia Fleet Service team can provide to end your emergency and help you get back on the road as quickly as possible:


24 Hour Towing/Assistance
With our 24-hour towing service you can have your car towed any time of the day and taken back to the garage for repair services. In case your car or a car you are driving is disabled, contact Columbia Fleet Service at 410-799-2500 for professional around the clock towing services. At Columbia Fleet Service, we boast well-maintained tow trucks, and highly trained and certified drivers who are committed to providing professional and courteous services to all our customers.
Fuel Delivery
If you're stranded on the side of the road because you've run out of gas, Columbia Fleet Service is here to help! We'll deliver fuel to you - just call us at 410-799-2500.
Jump Start Service
If your vehicle's battery is dead, Columbia Fleet Service can help you. Please call us at 410-799-2500, and our service professionals will come jump start your vehicle. The faster you call, the faster we can help you.
Lockout Service
Columbia Fleet Service provides professional roadside assistance, including lockout services. If you've locked your keys in your truck, call us at 410-799-2500 for timely assistance.
On Road Auto Battery Service/Sales
Experiencing issues with your battery? If you need a new battery immediately, we'll come replace it for you on the spot. Call Columbia Fleet Service's professionals today at 410-799-2500.
Tire Changes
If you are experiencing tire trouble, we offer roadside tire changes. To request service from our professionals please call us at 410-799-2500.
Winch-out Service
Winching or Winch-out Service is provided to pull the vehicle if it becomes stuck, typically in mud, sand or snow, uneven pavement that can cause a loss of traction, on a small parking barrier, etc. Most coverage requires that the vehicle is not more than 100 feet from a paved surface.
To learn more about our Emergency Roadside Assistance services, call us at 410-799-2500 or request a quote by clicking below:
Request Quote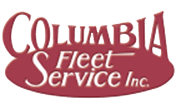 Emergency Roadside Assistance
09/30/2022
UPS sleeper Driver out of Chicago, Sebastián showed up on time and towed us to Penske. He was super helpful and cool as the the other side of the pillow. Great first time impression.
Discover More About Towing and Repair Services At Columbia Fleet Service in Jessup

Towing & Recovery
Reviews
I purposely waited to do this review. I wanted to be fair and take emotion out of the equation. First and foremost, let me be clear about the quality of workmanship they put out, which is second to none. I have absolutely no problem acknowledging that they are fast, friendly, and professional. They got me out of a jam in a hurry. The only issue I have is more my fault than there's. ALWAYS always always get a quote on the work to be performed BEFORE it's done. Just because they have a great price on one thing don't mean that they will have great pricing across the board. All in all, I still wouldn't hesitate to call them for repairs to my big truck. These guys are the heat!

Demetris Murphy, 02/28/2023

My driver was very awesome and he helped me out a lot. Thank you!!

Gee Brown, 01/09/2023

Very friendly and punctual

Calvin Mcmurren, 01/07/2023